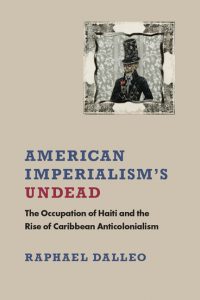 Professor Dalleo's most recent book is American Imperialism's Undead: The Occupation of Haiti and the Rise of Caribbean Anticolonialism (University of Virginia Press, 2016). It uses extensive archival research to uncover the forgotten influence of the U.S. occupation of Haiti from 1915 to 1934 on a range of anticolonial projects. In the process, the book sheds light on Caribbean contributions to communism, pan-Africanism, and the Harlem Renaissance. The book won the 2017 Gordon K. and Sibyl Lewis prize for best book about the Caribbean, awarded by the Caribbean Studies Association. See reviews here.



Dalleo's first single-authored book, Caribbean Literature and the Public Sphere: From the Plantation to the Postcolonial (University of Virginia Press, 2011), is a comparative literary history of the Caribbean. A review published in Interventions: International Journal of Postcolonial Studies describes it as a "comprehensive, meticulously researched new book," while Faith Smith in sx salon: a small axe literary platform calls it "an ambitious, original study of the literary public sphere." See more reviews.





He is coauthor with Elena Machado Sáez of The Latino/a Canon and the Emergence of Post-Sixties Literature (Palgrave Macmillan, 2007), a study of recent Latino/a literature's relationship to the ideologies of the civil rights era through examinations of post-Sixties writers Pedro Pietri, Ernesto Quiñonez, Abraham Rodríguez, Junot Díaz, Angie Cruz, Cristina Garcia, Julia Alvarez, Nilo Cruz, Chantel Acevedo, and Ana Menéndez. Read reviews in MELUS, Latino Studies, Latino(a) Research Review, Centro, and other journals.

Professor Dalleo is coeditor with Curdella Forbes of volume 2 of Caribbean Literature in Transition (Cambridge University Press, 2021). This collection offers a revisionist literary history of the key period from the 1920s to the 1970s, covering Caribbean contributions to the Harlem Renaissance and the Windrush generation, engagements with Canada and the African continent, and a mix of major writers like Derek Walcott, V.S. Naipaul, George Lamming, and Jean Rhys as well as recently recuperated figures like Eric Walrond, Una Marson, Sylvia Wynter, and Ismith Khan.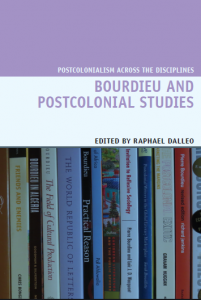 Dalleo is editor of Bourdieu and Postcolonial Studies (Liverpool University Press, 2016). The contributors to this volume, including Graham Huggan, Chris Bongie, Sarah Brouillette, and Stefan Helgesson, explore how Pierre Bourdieu's sociology of culture can be adapted to understanding world literature and postcolonial contexts.




He is coeditor of Haiti and the Americas (University Press of Mississippi, 2013), a collection of interdisciplinary essays about Haiti's place in the hemisphere. Contributors include Myriam J.A. Chancy, J. Michael Dash, Sibylle Fischer, Jeff Karem, and Nadève Ménard. In Journal of Haitian Studies, Kate Ramsey calls it a "groundbreaking interdisciplinary collection."