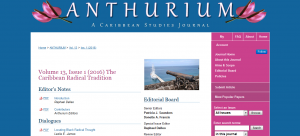 The special issue of Anthurium edited by Raphael Dalleo about the Caribbean Radical Tradition is now available.
The issue includes reviews of books about C.L.R. James, George Padmore, the Haitian and Grenada Revolutions, negritude, and Caribbean radical movements in the U.S. and London.
Contributors include Leslie James, Minkah Makalani, Christian Høgsbjerg, Marc Matera, Kate Simpkins, Natalie Leger, Rachel Douglas, Roxanna Curto, and Laurie Lambert.